Portable Washrooms for Oilfield, Mines, Construction, and Events
Our portable bathrooms are in demand because we've thought of it all. Our bathroom units come equipped with running water, flushing toilets, a generator, and a built-in light tower. We make a site visit every three to five days to replenish the water, dispose of waste, fuel the generator, and give the unit an overall clean.
All of our washrooms come equipped with 120v and 240v receptacles for plugging in as well as block heaters. They can even provide power to your well site shack. All of our washrooms are self-contained so no waste is ever left on location.
Reduced time and transportation costs
Save the hassle and lag time of scheduling multiple trips to move your portable washroom and light tower from location to location. Our all-in-one washrooms are a single trailer design so they can be moved in one trip and set-up quickly on site. With one phone call we can take care of everything right away.
---
Our Washroom Units
Firefly Safety Plus
Our Safety Plus unit can help you meet your OH&S standards by offering a built-in eye wash and emergency shower station. The Safety Plus also features separate male and female washrooms with outdoor access, an OH&S requirement for sites with more than 10 workers and both genders on site.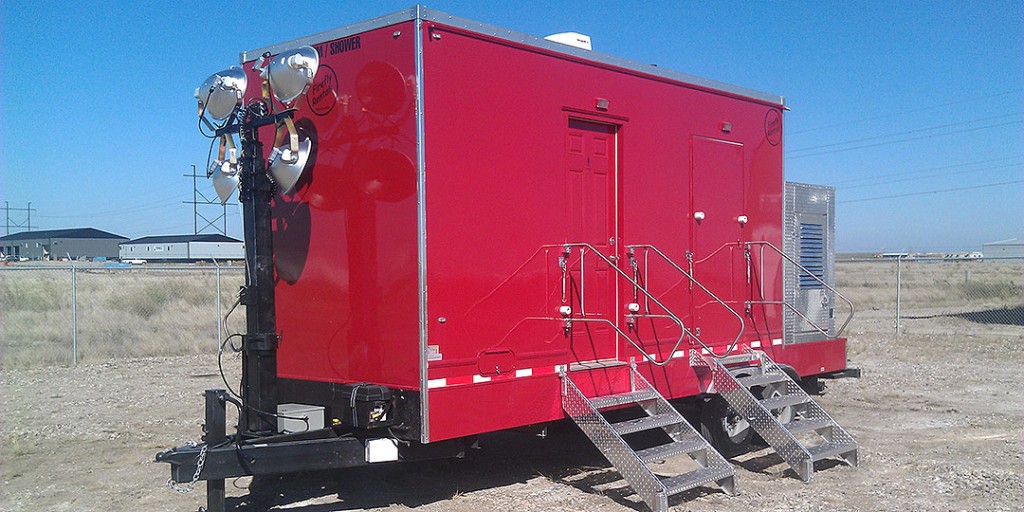 Indoor emergency eye wash and shower station
Four season use, every room has its own heater
Fresh water capacity:

330 gallon for emergency shower
100 gallon for washroom

Black tank capacity:

emergency shower delivers 20gpm for 15 minutes of tepid water
Two private bathrooms with separate outdoor access

25kw generator
25' light poll
Flushing toilets
350 litre diesel tank for generator
Firefly Standard
Our Standard unit offers you the most popular features at a value price. Thanks to fuel efficient design, it will run for seven to ten days on a single tank of gas.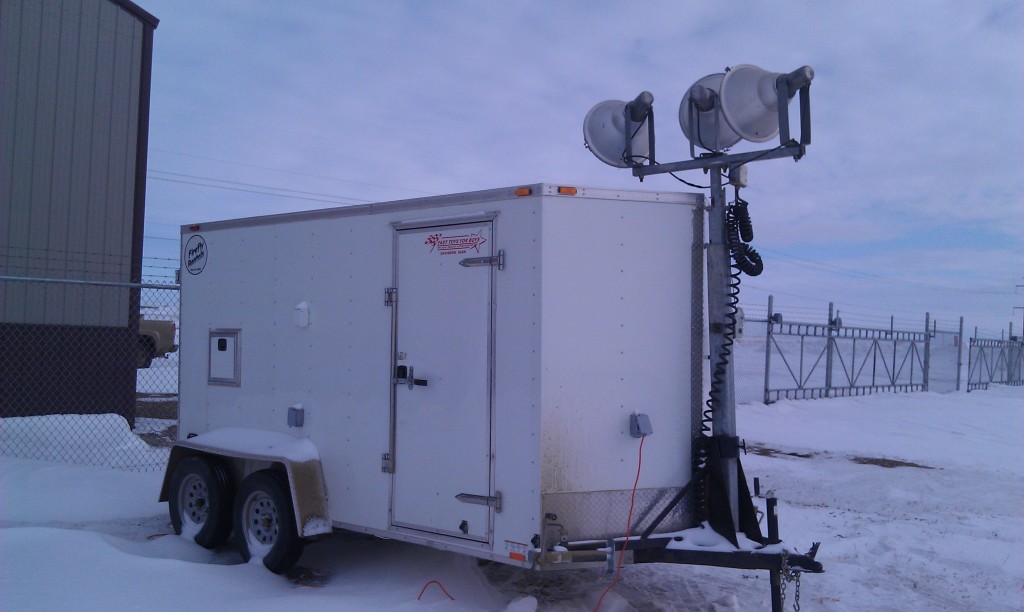 Standard Wet Flush
All the features you're looking for at a price that fits the budget.
Single stall bathroom
25' light tower
6kw diesel generator
Heated floor
Running water (sink and toilet)
Standard Dry Flush
This washroom unit's dry flush toilet makes it ideal for work sites that have breaks in work, especially during winter. Just lock it up until work resumes.
Single stall bathroom
25' light tower
6kw generator
Dry flush toilet
Running water sink